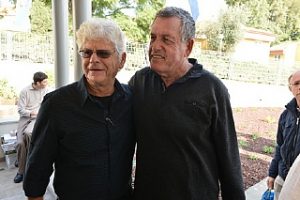 Kfar Tikva has been awarded the prestigious Jezreel Valley (Emek) Prize for 2019-2020.
The prize was established in memory of Gidon Zimbal, a deputy head of the Jezreel Valley who was killed in the Golan Heights during the Yom Kippur war.  The prize is awarded annually to organizations,  individuals, and groups of individuals  who are making exceptional humanitarian contributions to life in the Jezreel Valley.
The Emek Prize pays tribute to  Moshik Gross, the staff, residents and the many volunteers who work together to create the unique community of Kfar Tikva.  The pastoral life style , the services,  care,  work and leisure activities, communal atmosphere, participation in cultural life of the region and the overall inclusive nature of the life style l combine together to  create a vibrant, thriving community of residents, volunteers and staff.  The large numbers of grass roots volunteers enhances the life of the village and plays a key role in integrating residents in events, employment, society and cultural events of the regional council's activities.
The award will be presented to Moshik (on behalf of the volunteers, staff and residents) on November 5, 2019 in the Yifat auditorium.